Yorkshire Puddings
Click to add
Yorkshire Puddings
to your Favourites...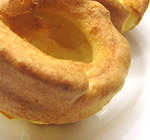 This classic accompaniment to roast beef and other meat dishes has a dark history and its origins are heavily disputed throughout the culinary world. However, it's easy to make and lovely with lashings of gravy.
Ingredients
120g plain flour
120ml milk
2 large eggs
a pinch of salt
about 60ml vegetable oil
Preparation Time: 5 minutes (+30 minutes resting)
Cooking Time: 20 minutes
Serves: 4 – 6
Method
Measure out the ingredients.

Put all of the ingredients except for the vegetable oil into a blender and blend them together for about 1 minute. Leave the batter to stand in a bowl or pouring jug at room temperature for 30 minutes.

Heat the oven to 200°c.
Pour the oil into a small bowl and, using a teaspoon, put about 1 teaspoon of oil into each compartement of a muffin tray. Put the muffin tray into the oven for 20 minutes to heat up the oil.
Pour the batter into a pouring jug, then remove the muffin tray from the oven, fill each muffin compartement with the batter and put the muffin tray back into the oven. You want the oil to remain as hot as possible, so try and fill the tray as quickly (but carefully) as possible.

Cook the yorkshire puddings for 20 minutes. Don't open the oven door for at least the first 10 minutes, ideally, leave the oven door closed for the entire cooking time.
After the time, take the tray out of the oven, remove the yorkshire puddings from the tray immediately (to prevent them from soaking up too much oil) and serve.

Back to top

Useful Information
Can it be frozen? No.
Can it be prepared in advance? No.
Will leftovers be nice? No.

Recipe Options